Our Black History Month celebration is part of our ongoing commitment to diversity, equity, and inclusion, which was accelerated in June 2020 with a $100 million commitment to meaningfully effect systemic change. This year, Comcast NBCUniversal is celebrating Black History Month by lifting up the stories and storytellers that inspire, enlighten, and educate us about who we are as a country. Through the firsthand voices of civil rights heroes, business owners, scholars, and so many more, the power of Black storytellers can be felt across all our platforms – especially as we celebrate the one-year anniversary of the Black Experience on Xfinity, which features the largest curated independent Black film collection on demand.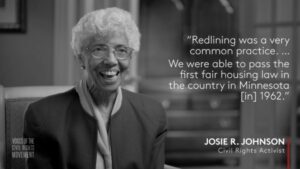 To further spotlight Black storytellers, Comcast will continue to champion civil rights heroes through our ongoing "Voices of the Civil Rights Movement" series. This series includes stories from civil rights heroes here in the Twin Cities, including Sharon Sayles Belton, the first Black woman to serve as mayor of Minneapolis, and Dr. Josie Johnson, a leader in the fair housing bill and the first Black woman to serve on the University of Minnesota's Board of Regents.  Check out all these videos on our Voices of the Civil Rights Movement platform.
Through Comcast RISE, we've made a multi-year commitment to provide marketing services, technology makeovers, and cash grants to small businesses owned by women and people of color. As a result, entrepreneurs like Lucienne Olson of Revival Training, Henrietta Smaller of Stunning Beauty Supply, and Melissa Anderson of The Greenery Mpls, and over 200 other businesses in Minnesota have seen their businesses grow.