Welcome to Comcast RISE Highlights where Comcast RISE recipients in the Twin Cities Region are highlighted.
We're proud to introduce Henrietta Smaller, owner of Stunning Beauty Supply in Burnsville, MN. It started in 2006 when Henrietta stepped into the beauty supply industry and felt it was her calling to open her own business to serve the Burnsville community.
"As an entrepreneur in 2022, I enjoy having the option to work in a field that I truly appreciate and have grown to love," said Henrietta. "I have been blessed to put my knowledge and information to great use, and acquire individual fulfillment from executing my dreams of working straightforwardly with customers, and watching my business succeed."
Currently, Henrietta is working on a new store front to help customers
locate
her business. To support Henrietta, and Stunning Beauty Supply, check out her
online store
.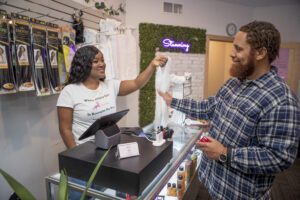 Comcast RISE
 is a multi-year commitment to provide marketing, creative, media, and technology services to small businesses owned by women and people of color. We are 
accepting applications
now for Comcast RISE. If your business
qualifies
, you'll have the opportunity to receive one or more of the following business services:
Marketing and advertising consultations
Commercial creative production services
Media placements over a 90-day period
Technology services from Effectv and/or Comcast Business