It was a great day on Saturday, August 20, when all of the Twin Cities ERGs came together to host the first annual ALL ERG 5K Run, Walk, Roll to support CLUES, Minnesota's largest Latino-led nonprofit organization whose missions is to advance social and economic equity and wellbeing for Latinos in Minnesota.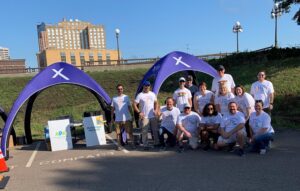 All employees and their families were invited to participate by donating three non-perishable food items and enjoying the views of the Mississippi River. Comcast family and friends came together to support the great cause and learn about ERGs.
"We wanted to drive participation in ERG's and highlight what's possible with DE&I when we all work together, " said Customer Experience Supervisor, Joshua. "This is just the beginning and we hope to grow the event each year, our impact can only get larger!" 
All donations were transferred to CLUES where their volunteers counted and estimated 150+ lbs of food was donated through the 5K event! Donations were distributed to 180 families in the community.
"What an awesome way to spend time together and learn more about each ERG we offer! Couldn't have been a more beautiful day for a run" added technical operations supervisor, Nate.
Earlier this year Comcast in partnership with the Hispanic Federation announced the launch of the Latino Digital Equity Centers Initiative to strengthen workforce development and digital training programs in the Latino community. Through this partnership, 20 Latino-led and serving nonprofit organizations, including CLUES, will receive grants totaling $635,000 to provide access to digital skills learning in Latino communities. The initiative will also work closely with grantees to create a first-of-its-kind Digital Accelerator training program designed for the Latino-led grantee nonprofits to strengthen their organizational capacity, programmatic offerings and reach in the digital workforce development space. Grantees will also launch Digital Career Centers that will offer both online and in-person trainings to community members seeking to increase their digital skills, and help community members get connected to employment opportunities that leverage those skills.